Mayor's Commission on Disability
MISSION STATEMENT
The Lake Charles Mayor's Commission on Disability was formed in 1983 to expand the opportunities of person with physical or mental disabilities and thus enhance their contribution to society. This organization will work with individuals, organizations, businesses and professionals to strengthen public understanding of the needs and potential contributions of persons with disabilities.
ONGOING OBJECTIVES
Promote and encourage public awareness of the concerns of persons with disabilities

Advocate for appropriate access to housing, buildings and transportation

Educate the community about the skills of persons with disabilities to foster greater employment opportunities

Encourage the inclusion of persons with disabilities in recreational, social and cultural activities in the community

Network for support of expanded and strengthened rehabilitation programs and facilities

Work to eradicate the incidence of certain disabilities through accident and disease prevention education

Expand the exchange of information and experiences on all levels (local, state and national) to benefit all persons with disabilities

Special committees established to study legislation, employment trends and transportation issues as they relate to persons with disabilities
COMMUNITY PARTNERSHIP
In order to meet the long-term goals of this commission, we invite the participation and involvement of the community. This commission in turn works within the community to educate and foster greater possibilities for inclusion of people with disabilities.
The Lake Charles Mayor's Commission on Disability has been recognized by the U. S. Conference of Mayors for its contribution to the community.
This commission has started or helped facilitate the following changes and new programs within the City:
Sponsors the annual "WE THE PEOPLE" Conference -- educational workshop and exhibitions

Served in an advisory capacity on Civic Center adaptations including accessible seating, lifts in the Rosa Hart theater and improved doorways

Encouraged the TDD placement in the Lake Charles Police Department and Fire Department to handle incoming calls from persons who are deaf and hearing impaired

Advocated for the para-transit system which has been instituted

Conducted the "Windmills" Sensitivity Training

Conducted Americans with Disabilities Act Informational Training
MEETING TIME, DATE, AND LOCATION
The commission meets at 11:30 a.m. on the third Thursday of every month (with the exception of June and July) at the Southwest Louisiana Independence Center (SLIC).
---
Click the image below to view a slideshow of pictures from the 2016 Mayor's Commission on Disability Biennial Conference.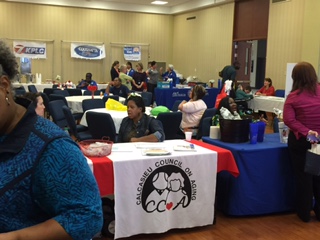 More Info
Find content and services related to this page.