As chief of the Lake Charles Police Department, Don Dixon oversees operation of the principal law enforcement agency in the City of Lake Charles. His responsibilities include the supervision of 194 sworn law enforcement personnel in service to the community. Dixon directs all patrol, investigative and administrative operations, and administers an annual budget in excess of $12 million. He reports directly to the mayor of Lake Charles and has regular contact and dialogue with all seven City Council members. Also known as the chief administrative officer and general manager of the department, Dixon is responsible for the effective and efficient utilization of the Police Department's financial and human resources and is accountable to all the community members of the Lake Charles area.
Prior to his appointment as chief of police, Dixon was the Senior Resident Agent of the Lake Charles division of the Federal Bureau of Investigation. Overall, he was an agent with the F.B.I. for 30 years. He is certified as an F.B.I. instructor in firearms, defensive tactics, SWAT, counter-sniper activities and tactics. He also served as a consultant to the F.B.I. Tactical Team during the 2002 Superbowl.
Dixon was unanimously appointed as chief of police by the Lake Charles City Council. He officially took office on January 1, 2002. Chief Dixon took on a department in the midst of a reorganization - poised for change and leadership. He plans to make the City of Lake Charles the safest city it can be.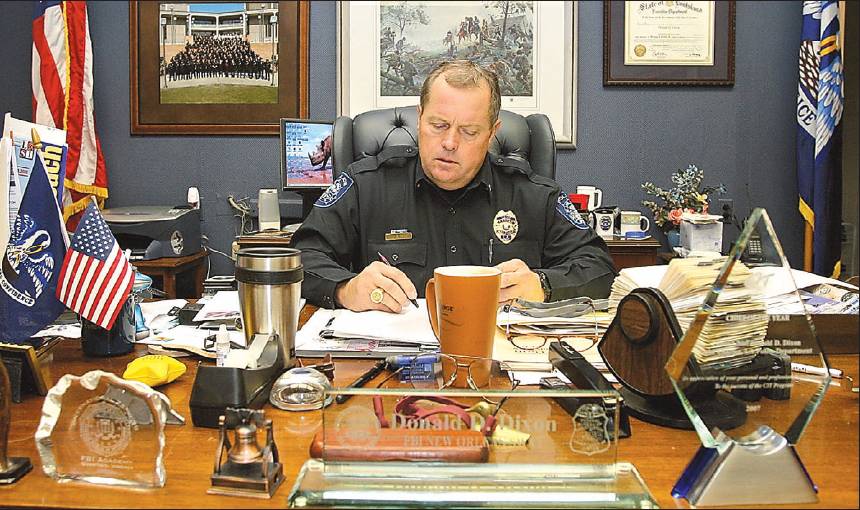 On January 1, 2008, Chief Dixon was again unanimously appointed as Chief of Police by the Lake Charles City Council to serve another 6-year term.
"My goal was to make the police department a more
professional agency. My goal was to also give everyone from clerks to detectives
the equipment and training they needed. Today, I truly believe this is a more professional agency." (Quoted from an American Press interview)
Outside the police department, Dixon has two sons (Donnie and Tyler). He and his family attend Boulevard Church of Christ, and he is an active member of the Big Brothers / Big Sisters program. He possesses a bachelor's degree in Sociology from the University of South Florida.