Developed in 1976 by the City of Lake Charles, Mallard Cove Golf Course was built at the former Chennault Air Force Base on land donated by the federal government. The course was designed by Jim Wall, a former associate of Robert Trent Jones.
Since its inception, Mallard Cove has changed its face a few times. The Golf Shop was originally housed in the existing cart barn. Then, it moved to the new clubhouse facility in 1985 at the southeast corner of the parking lot near the #1 tee. A new main access road was built to bring customers in from the far west end of the property and tied into the parking lot. In 2001 the course underwent major renovations to the greens, tees and bunkers.
The original greens were very undulating with limited choices for fair pin placements. It was decided that the greens needed to be enlarged and leveled out to accommodate the high traffic, while the tees were enlarged and some bunkers were removed leaving others to be reshaped and enlarged. The Kevin Tucker Group and Eagle Golf Construction implemented the course renovation introducing "TifEagle," an ultra-dwarf Bermuda, on the greens. TifEagle's tolerance to extreme weather conditions and high traffic, while providing a smooth and true putting surface, made it an easy choice for the new greens.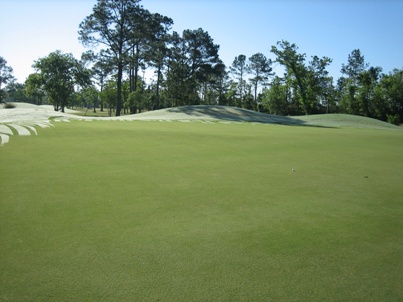 ( #14 Green)
On September 23, 2005, Hurricane Rita, the largest hurricane on record in the United States, paid Lake Charles a visit. Hurricane Rita quickly completed some of our planned tree removal and pruning projects much ahead of schedule. Lake Charles was hit very hard and was without any power for two weeks. The entire facility was closed down for 45 days to complete debris removal. The course re-opened on November 10, 2005.
The first foursome resumed play on November 10, 2005. Thank you!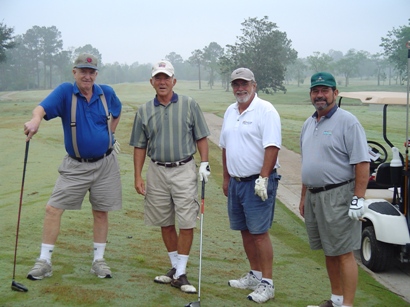 Castle Cohren, Bob Radomsky, Bob Lebert and Marion Landry
We started up operations on November 10, 2005, from the kitchen of our outdoor tournament pavilion because of irreparable damage to the clubhouse.

In January of 2006 we moved into temporary modular buildings set in the corner of the parking lot in order to resume operations.

Two years passed while we secured the proper funding to build a new clubhouse facility.

Construction on the new clubhouse facility began in February of 2008 and on July 15, 2009, we finally moved our operations into the new 11,000+ square feet facility.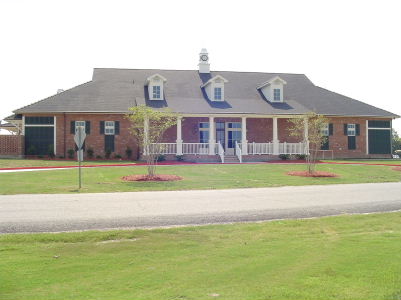 During the construction of the clubhouse, we secured funding to install a brand new irrigation system on the golf course.

This work began in January of 2008, and was completed in June of 2008.
In 2010 the cart paths were replaced on the front nine and then, in 2012 the cart paths on the back nine were replaced. All new cart paths were extended from only five feet wide to six feet wide. This project helped to add an aesthetic enhancement as well as provide a smoother traveling surface for the golf carts, reducing wear and tear on them.
Mallard Cove Golf Course has been a local favorite since it began. The course is truly a championship design, but allows players of all skill levels to play to their abilities. It is a constantly challenging design, but does not take any shot away from any player with forced carries or specific landing areas. Mallard Cove Golf Course enjoys a steady flow of annual rounds of golf above 32,000 and is a "must-see" if you are visiting.
Contact Us
Chennault Air Park
Lake Charles, LA 70615
More Information
Find content and services related to this page.