Brief History of the Lake Charles Cup Matches
The Lake Charles Cup Matches were started in 2002 by a local golfer named Bill Propst and the then, Director of Golf at Gray Plantation, Neel Derouen. The Lake Charles Cup Matches included teams from Gray Plantation, Lake Charles Country Club, Mallard Cove and Pine Shadows.
Pine Shadows won the Cup in the first four years of competition, with 2005 being canceled due to Hurricane Rita, leading them to retain the LC Cup from 2002 through 2006.
Some minor modifications were voted on by the local Golf Professionals for 2007 to allow more access to higher handicaps. Mallard Cove won the LC Cup in 2007 and Gray Plantation won it in 2008 with Lake Charles Country Club being absent.
The Lake Charles Country Club came back in 2009 with a very strong team and the LC Cup Matches for 2009 came down to the last group on the course and down to the last hole. Lake Charles Country Club had a one point lead with the final group on Hole 18. Mallard Cove pulled in 2 ½ points on the last match to win back the LC Cup by only ½ point. Mallard Cove went on to win the LC Cup for the second time in 2009 and Pine Shadows won the Cup back in 2010.
In 2011 the Lake Charles Country Club decided to drop out of the Cup Matches again and The National Golf Club in Westlake was invited to participate, beginning a new generation of competitors in the Lake Charles Cup Matches. The National claimed the victory in 2011. The LC Cup Matches were contested in 2012 at Pine Shadows and The National.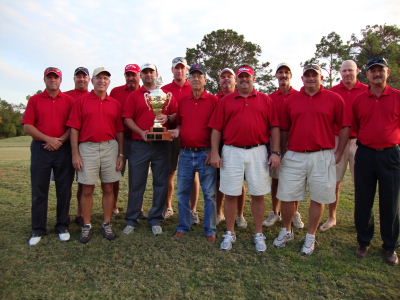 2009 Lake Charles Cup Winning Team
Team Mallard Cove
More Information
Find content and services related to this page.