Lake Charles Cultural Districts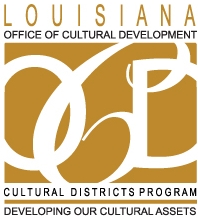 The Louisiana Cultural Districts Program, created by Act 298 of the 2007 regular session of the legislature, is an initiative with the primary goal of sparking community revitalization based on cultural activity through tax incentives.
Cultural districts are designated by governing authorities for the purpose of revitalizing a community by creating a hub of cultural activity.
Once a cultural district is certified by the state, two tax incentives take effect:
The sales of qualifying original, one-of-a-kind art within the district are exempt from local and state sales tax.

Renovations to residential and commercial historic structures within the district may be eligible for state historic tax credits.
Lake Charles is home to three designated cultural districts at this time. For a map of each cultural district, click on the district name below.
Cottage Shops Cultural District
Nellie Lutcher Cultural District
Contact Us
326 Pujo St
Lake Charles, LA 70601
More Information
Find content and services related to this page.