Charpentier Historic District
The Legacy of Lumber

Lake Charles is regarded as the capital of the Western Louisiana pine lands, which fueled a lumber boom in the 1800s, impacting much of the City's architecture. During the 1800s experien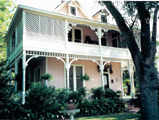 ced lumbermen from the North, known locally as "Michigan Men," arrived in Lake Charles. They brought with them the tall and angular style of construction that mirrored the Victorian tastes popular in most of America at the time. This style contrasted with the existing galleried cottages popular in the rest of the state. Also present was a variation of the Colonial Revival style, which became a sort of local sawmill version of the classic Southern plantation. Today, the Lake Charles sawmills and lumber yards are gone, leaving the unique homes of the Charpentier Historic District as the only reminder of its early twentieth century heritage. It is an impressive legacy, allowing future generations a glance at Lake Charles' golden age.

What makes the Charpentier Historic District unique?

The romantic history of Lake Charles began with the first French settlers in the 1760s. The lumber boom was responsible for the rapid growth of the city in those early years, and allowed for the extensive use of solid pine and cypress construction of the homes in historic downtown Lake Charles.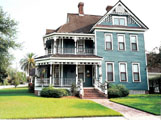 There were no true architects in the area until the early 1900s, so each house reflects the characteristics of each builder or carpenter. These carpenters got their plans from pattern books, but were very creative in combining elements and details from various styles. This blending of architectural features has been named "Lake Charles Style Architecture" by Jonathan Fricker, architectural historian for the state of Louisiana. We honor the carpenters of that early age by naming our historic district "Charpentier" (char peh ti ay), which is French for carpenter. The district was admitted to the National Historic Register in 1990.

Tours of the Charpentier Historic District

For a detailed map containing locations and descriptions for two walking/driving tours o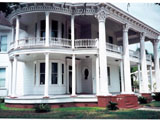 f the district, please visit the Lake Charles/Southwest Louisiana Convention & Visitors' Bureau or Historic City Hall Arts & Cultural Center. The residences in the Charpentier District are privately owned, however, entry may be scheduled through a private tour. The tours are conducted by the Calcasieu Preservation Society and may be arranged through the Lake Charles/Southwest Louisiana Convention & Visitors' Bureau. Please call 1(800)456-7952 for more information.
Contact Us
SWLA Convention & Visitors Bureaubr1205 Lake Shore Drbr
Charles, LA 70601
More Information
Find content and services related to this page.