City of Lake Charles Announces Partners in Parks Outdoor Fun Series
On Monday, August 3, Mayor Nic Hunter, joined by several community partners, announced a free Partners in Parks Outdoor Fun Series of events.
Scheduled each week during August and September, these family-friendly events will take place in parks throughout the City. Events include activities such as Art in the Park, Lemonade Lectures History Walks, Nature Walks, Slime Parties in the Park, Yoga in the Park and more.
"Since launching Partners in Parks in 2018 it has been our goal to not only find creative solutions to improving our park infrastructure citywide, without additional burden to taxpayers, but also to engage community partners in helping us re-energize park programming to entice a new generation of park-goers," said Mayor Nic Hunter. "COVID-19 has certainly sent 2020 in a direction none of us anticipated and with large gatherings, festivals and events all being cancelled, we wanted to offer a safe way for families to get outdoors and experience some educational fun."
The full slate of events includes the following. Click each event to access the registration form.
Necessary supplies will be provided for each event. Due to ongoing COVID-19 mandates, pre-registration is required as attendance will be limited to ensure that appropriate social distancing can be enforced. Mask-wearing is strongly encouraged.
All scheduled events are part of the City of Lake Charles Partners in Parks and Nature in Focus initiative. Events are being scheduled in partnership with Louisiana Department of Wildlife and Fisheries, Arts and Humanities Council of Southwest Louisiana, Sasol, Bob's Tree Preservation, What Works, Girlie Girls and Seed Yoga + Flower Massage.
For more information or to register, call 491-1280 or visit www.cityoflakecharles.com.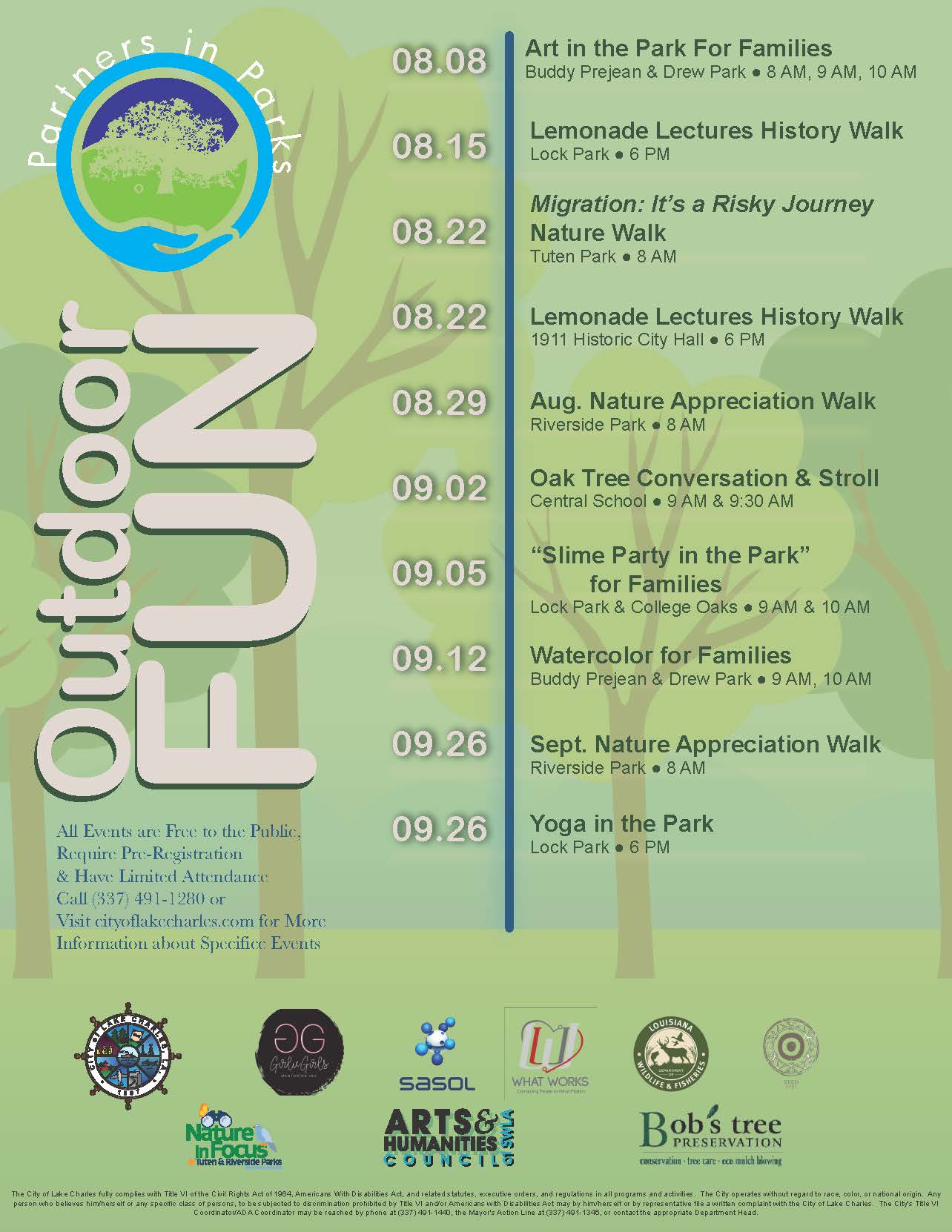 In July of 2018 Mayor Nic Hunter, on behalf of the City of Lake Charles, launched the citywide Partners in Parks initiative aimed at combining private and public dollars to improve park infrastructure and expand programming. Since its inception, Partners in Parks has added more than three quarters of a million dollars into City parks with no additional burden to tax payers.